Savings – A Long Road Ahead
Most traditional lenders require 5% in 'genuine savings'. In other words, you need to save 5% of a property's purchase price (as a deposit) to qualify for a home loan, and prove you have a savings record.
The problem is the cost of living keeps going up…rents are rising…the housing market has seen a decade of growth. And you're still paying off your car and enjoying life! What this means is saving for a deposit is tough.
So how do you enter the property market sooner, on a limited savings budget?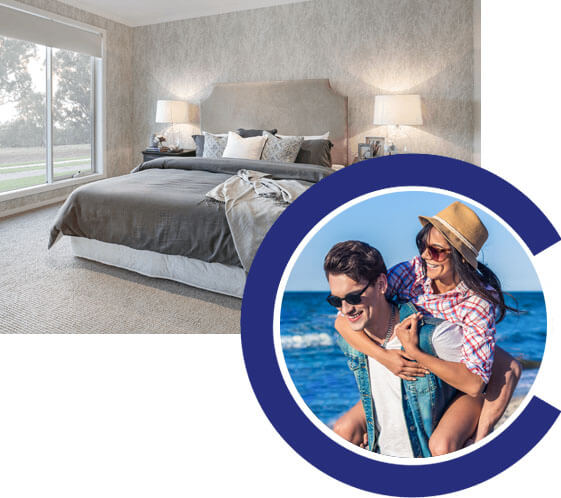 Becoming Finance Ready
We understand how frustrating it can be for aspiring home owners who are keen to get their foot in the property market but aren't finance-ready – yet. Most don't believe they're ready to qualify for a home loan anytime soon.
Badu Capital specialises in innovative lending solutions and niche loan offerings to help customers achieve their property goals.
Our Deposit Assist Program is designed to support first home buyers who want to buy a new house and land package become credit worthy.
The program works by using flexible options and different sources to boost deposit contribution to help meet lender requirements. These options include:
Gifts
First Home Owners Grant (FHOG)
A Deposit Assist Loan
Repurposed incentives from approved builders and developers.
David and Cara have started saving to buy a block of land where they can build their own home. After months of searching, they find a house and land package they love, in an area they love. The package is worth $550,000.
After meeting with their broker, they are told they will need about $43,000 to cover the deposit and associated lender and government fees. David and Cara have $8,000 set aside, and are eligible for the $10,000 First Home Buyers' Grant. They are currently saving $1,500 per month, so it will take them another 18 months to meet the lender's requirements. They are resigned to paying rent for a long time!
Through Badu Capital, they are introduced to the Deposit Assist Program which allows them to purchase their block of land and watch their dream home being constructed. The program allows them to put funds into their own asset rather than rent. They also have available funds to furnish and decorate their new home once it's completed.*
*includes repurposed incentive of $25,000 plus $10,000 First Home Owners Grant and existing savings
Is Deposit Assist for me?
We take our responsible lending obligations very seriously.
Through our lending criteria, we strive to ensure that people who qualify for the Deposit Assist Program, or become eligible for the Deposit Assist home loan product, will embark on the process of home ownership in a financially stress-free way.
Our program is designed to support working couples (or individuals) who are:
yet to own their first home
early on in their savings journey or about to start saving
earning higher levels of income, and have reasonable or manageable levels of consumer debt
interested in buying a house and land package.
Badu Capital is a specialist in construction loans. Working with some of Australia's premier land developers and builders, we help customers find the right lending solutions for house and land packages. Contact our friendly team of financial experts to find out more about our market-leading lending products.
Disclaimer
Badu Capital Pty Ltd ABN: 89 620 188 810 Credit Representative of Loan Market Australian Credit Licence 390222